When you think of a sectional sofa, you probably think of the giant pieces that overwhelm rooms while supplying seating for a dozen people. Or maybe you think of the bulky pieces of the past, which allowed only one or two possible arrangements. Either way, you probably don't think it would be the right choice for a small apartment.
Sectional sofas, when carefully chosen, can actually be the perfect solution for small apartments. If you do any kind of entertaining, providing adequate seating for your guests is always a concern. Many people choose two sofas, a sofa and loveseat, or a sofa and a chair or two to fill their living rooms. While these are all valid options, they are limited in their flexibility – there are only so many ways you can arrange a sofa and loveseat in a small room.
However, a sectional sofa, especially one of the smaller versions designed for smaller rooms, gives you virtually unlimited options for arranging your room. Unlike the models of the past, many of today's
modern sofas and sectionals
offer several types of pieces that can be customized according to your needs. For example, a model with a loveseat, a chaise and a corner piece can be placed all together in the corner of the room or separated into different pieces around the room for several seating and conversational areas. Alternatively, a simple sofa and chaise set is adequate for a tiny space.
What to Look for in a Sectional Sofa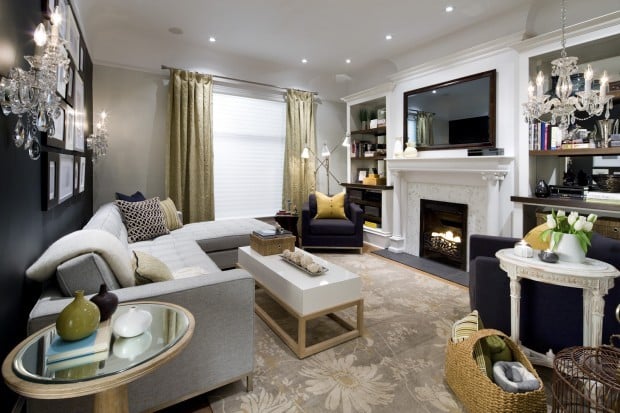 When you're shopping for a sectional intended for a small space, keeping the following important points in mind will prevent the furniture from overwhelming the room.
Look for a piece with a low back. A high-backed or deep sofa can make the sofa appear larger than it actually is. It might fit into the room space-wise, but it will dominate the space and make it feel smaller. Choose a sofa with a sleek, low profile that does not have arms. When the sofa has no arms, you increase the number of possible configurations.
Choose clean lines. Much like a high-backed sofa, a sectional that is too ornate or overstuffed will overwhelm the room. Instead, purchase a sectional that has sleek, clean lines with minimal ornamentation and is comfortable without being overstuffed.
Stay with neutral colors and small patterns. Not only will it keep the sofa from looking outdated in a few years, but a neutral color won't dominate the room. Many sectionals are available in leather, which has a timeless appeal and can be easily accessorized.
Shop for a sofa that includes several different-sized pieces. For example, a corner piece or ottoman can serve as a coffee table or extra seating.
Choose multi-use pieces. One of the best ways to maximize space in a small apartment is to purchase furniture that does double duty. For example, look for an ottoman with a removable top for storage or a sofa piece that converts into a bed.
Decorating with Sectionals
Sectionals are often placed in an "L" shape in the corner of the room. You can change the arrangement to fit your space and needs, and you can decorate around the pieces for a stylish and functional space.
Add a rug. A bold or patterned rug placed on the floor within the "L" both anchors the space and adds style to the room.
Use colorful pillows to jazz up the neutral sofa. Large pillows in bold colors or patterns and comfortable throws add interest and personality.
Decorate vertically to fill the space behind the sofa. Since the best sectional for a small space has a low back, it's important to fill the space behind the sofa to keep the room balanced. Hang a large painting, architectural piece or gallery print behind the sofa, or create a collage-style gallery of framed photos to draw the eye up.
Experiment with different arrangements. Try moving the pieces around the room until you find the arrangement that best fits the space and your needs.
Buying Tips
Before you purchase a sectional sofa (or any piece of furniture), measure the space where you plan to put it and the sofa itself. Be sure to measure the doorways and stairways or elevators where you'll need to bring in the furniture. Nothing is worse than purchasing the perfect piece of furniture only to find that you can't get it into your home. One of the benefits of a sectional is that it's designed to be taken apart; before making a final decision, check to see if the legs or other pieces can be removed for easier moving.
Decorating a small space can be challenging, but it's not impossible. Shopping for furniture that's designed for flexibility in use and arrangement can make the task easier. When you're designing your living room, consider purchasing a sectional sofa, which offers comfort, plenty of seating and the ability to choose pieces that both fir your space and meet your needs.
This is a guest post from Judith Stern. Judith began her interior design career as in-house designer to a prestigious furniture retailer. Today Judith and her family run Modern Furniture Classics in addition to several other furniture websites.