If you haven't heard of Pinterest by now, you might be living under a rock. Pinterest has become
the
resource to virtually scrapbook and organize your favorite images and ideas from around the web. Style and home decor are among Pinterest's most popular categories.
We have been using Pinterest for some time now and wanted to share some ideas on how to use it.
Create online inspiration boards
This might seem obvious, but the number of categories you can make are limitless. If you're thinking about remodeling your kitchen, just "pin" everything you find having to do with your kitchen into a board. When it comes time to building that dream kitchen, it'll all be in one place.
We have several boards set up to inspire us:
Use Pinterest to follow Trends
We recently started a board to follow
2012 Spring Home Trends
. You may want to organize yours further by furniture, pillows, colors or anything you can think of. Check out some of the hot Spring items we've pinned recently: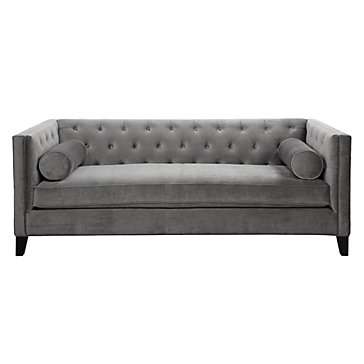 Z Gallerie Royce Sofa

Use Pinterest to help you get organized

We have a board set up called
Let's Get Organized
which is a great visual to pull inspiration on how to organize your space. There's so many possibilities out there to get organized and it's incredibly helpful to see it all your ideas in once place.
Use Pinterest to save the products you love
If you're debating between several different couches or any other product. Just pin everything you love onto a board as you come across it. We have a great board set up just for
Lighting You Can Afford.
Having several affordable options in once place is so much easier than going through a bunch of sites.
These are just a few ways you can use Pinterest. The possibilities are endless! We're always on the lookout for new ideas and ways to use the site. Leave us a comment or submit your tips below.
This post was written by Lakshmi.