1. Sun Protection Spray.
Before your fabric heads outside to face the sun, spray it down with a sun protectant. (I did NOT do this and see what happened!). There's several brands out there but the ones that have gotten some good reviews include
Granger's Spray-On Waterproofing
and
Solar Shield Protection
. These products may be great for your curtains that directly face the sun.
2. Keep it Clean.
Periodically wiping down your furniture with a sponge and soapy water can do a lot to help keep its luster. For the non-fabric items, spraying it down with a hose will do the trick. You especially want to clean and fully dry your furniture before storing it away. Otherwise, you're at risk for growing mildew. Gross.
3. Waterproof your wood.
For outdoor wood furniture, apply waterproofing wax or gel with a clean cloth. Make sure the wood is completely dry before you apply the product. Remember to wear some gloves!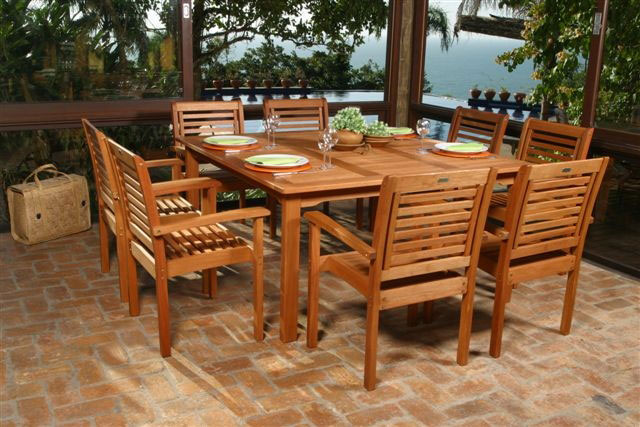 4. Cover and Store.

If you didn't think it was worth the money, think again. Getting some great outdoor furniture covers are a wise investment. There are many available online on

Overstock.com

or from Lowe's, Home Depot or Sears. Trust me, these are definitely worth the money!

Finally, to deal with my sad faded outdoor upholstery, I'm going to try to bring it back to life later this summer using some fabric spray paint. There's a number of brands out there, but I think I'm going to try

Simply Spray

. If you guys have any other suggestions let me know. I'll write another post later this summer and let you guys know how it goes!

This post was written by Lakshmi

It's that lovely time of year right now where the sun's out and we're excited to spend more and more time outside. That's why I was sad to see my beautiful outdoor upholstery fade due to sunlight. I had no idea the sun could damage my furniture so much! See how faded my seat upholstery is compared to the pillow! Who knew this would happen! So now I've been on a mission to learn as much as I can on how to get my upholstery back to its original lively look and how to protect the rest of my furniture. I thought I'd share what I learn with all of you.