Our research revealed a few common types of bicycle storage racks:
• Free-standing or "gravity" bike racks
• Tension-Mount bike racks
• Wall-mounted bike racks
• Ceiling-mounted bike racks
We found that all types of racks worked for both mountain bikes and road bikes. However, some bicycle storage solutions are better suited to bikes with a horizontal bar as part of the frame as opposed to a diagonal one. Others are adjustable for both a horizontal or diagonal top bar.
Below are our recommendations for which types of bicycle storage racks are best suited for different applications, such as the best looking racks, the best bike racks for limiting damage to the wall, the cheapest bike racks and the best type of bike rack for organizing your garage.
Best Bicycle Rack for Renters = Tension-Mount, Free-standing or "gravity" bike rack
If don't own your place—and you want your full security deposit returned when you move out—you'll probably want to stay away from bicycle wall-mounts and ceiling mounts that require you to drill holes in the wall.
So-called "gravity" racks, like the Delta Design Michelangelo, have two legs that rest on the ground and lean flush against the wall, held in place by gravity rather than screws or nails. These are space saving, lightweight and affordable.
Best Bicycle Rack for the Garage = Bicycle Wall-Mount or Tension-Mount
When your storing bikes in the garage, finding the most efficient storage system is paramount. The Schulte Bike Rack With Basket can attached to a slatted wall finish that works with other organizing attachments to hold sports equipment, garden tools, and more -- offering a complete solution to organizing your garage. Visit
Organize.com
,
Wall to Wall Storage
or
Sears
for product details.
If you don't want to mount to your garage wall, tension mount or free-standing bike racks also work well in the garage to stack multiple bikes.
Most Affordable Bicycle Rack = Bicycle Wall-Mount
It's not surprising that wall-mounted racks tend to be the most affordable – they are typically compact and don't use a lot of material. A simple, purely functional wall-mount like the
Racor 1-Bike Folding Rack
can cost as little as twenty bucks. Or just mount two
Crown Bolt Bike Storage Hangers
to the wall for as little as 5 bucks!
Delta Cycle
has several affordable options as well with an intentional industrial design aesthetic.
Most Attractive Bicycle Rack = Bike Wall-Mount
Even though we've noted the bike wall-mount as "most affordable" you can pay top dollar for a designer bike shelf like the $300
Walnut Bike Shelf at Knife & Saw
.
We also like this bike shelf from southern California's
Ballou Projects
, coming soon in 2013:
This bike shelf was posted via the American Woodworkers Institute - great inspiration!
Don't forget Etsy as a great place to find hand-made, attractive bike racks like this minimalist rack:
This
wood bike shelf from CB2
is one of the more affordable ones, running about $50.00:
Another great option is the
Cycloc
, which can adjust to any bike frame or hanging angle and is a good value at around $60.00.
Best Do-It-Yourself Bike Rack = Bike Wall-Mount
Yes, it is possible to make your own wall-mounted bicycle rack. Check out instructions posted by
Kyle Wilson
and
Shelterness
for these awesome DIY bike racks!
Best Bicycle Rack for Rarely Used Bikes = Bicycle Ceiling Mount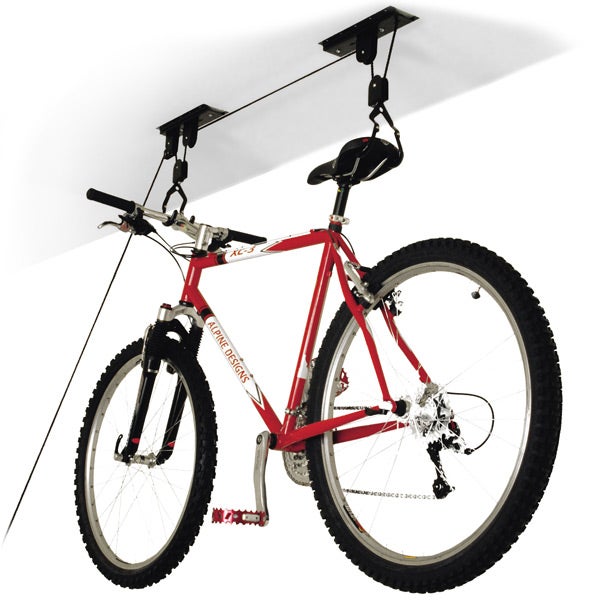 We find the ceiling mounted racks a bit impractical, but if you have bikes that you don't use regularly, a ceiling mount like the

Ceiling Mount Bike Lift from the Container Store

can be a fantastic way to free up both floor and wall space.

In the end, the best way to store your bicycle really depends on your personal needs and preferences. I hope this overview has helped you decide which kind of bike storage rack, mount or hook is right for you, your bike and your home.

This post was written by Katie.

Finding a good place to store your bicycles can be tough, especially if you live in a residence with no garage or basement as is the case for many city-dwellers. To help just about everyone dealing with more bikes than storage space, we looked at different indoor bicycle racks that can be used in your main living space, in a storage room or in a crowded garage.